Credit Type:

Legal Ethics

Faculty:

Jim Jesse, Esq.

Course Levels:

Intermediate

Duration:

1:00
Description
In this program, attorney/songwriter Jim Jesse continues his discussion of copyright law as it applies to the ethical issues a lawyer could encounter when representing the very specific business entity that is a band.
Jesse uses specific fact patterns from the later portions of The Beatles career to illustrate these principles, including copyright infringement, as well as:
Ethical Issues in George Harrison My Sweet Lord Case (The Featured Case) / Breach of Fiduciary Duty / Conflict of Interest – MRPC 1.7, 2.1
Ethical Issues Regarding Band/Organization Dissolution – MRPC 1.13, 1.14
Ethical Issues and Conflict of Interest in Representing Competing Interests in a Group – MRPC 1.7, 2.1
This is the third installment of Jesse's Intellectual Property/Copyright series exploring issues lawyers may encounter when representing individual musical artists and bands. While the educational content of each installment stands alone, there are added benefits to attending all three.
Handouts
| | | | |
| --- | --- | --- | --- |
| | Ethical Issues Representing a Band | | |
Faculty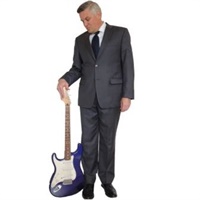 Rock n Roll Law
---
Jim Jesse has been an attorney for 24 years, and has been a full-time CLE presenter since 2013. He is the former General Counsel for Cool Music Network (THECOOLTV), which is a 24-hour music video television network.
Previously in private practice, he founded Rock N Roll Law to spread his passion for music law through his seminars.
He is also a singer/songwriter who has released two albums, is a member of BMI, and has run his own record label distributing his music. He has written songs for more than 30 years, and studied music history for nearly as long.
He is also the author of "The Music Copyright Law Manual" and the forthcoming "The Musician's Guide to Music Copyright Law."
Mr. Jesse consults and practices in areas regarding intellectual property, licensing and music law. He has drafted and reviewed hundreds of contracts from small barter deals to multi-million dollar ones.
---
Source: https://georgialawyersclewebinars.ce21.com//item/rocknroll-law-intellectual-propertycopyright-series-ethical-issues-representing-band-beatles-case-study-309397