Faculty:

Deborah Dana

Duration:

2 Full Days

Format:

Audio and Video

Copyright:

May 21, 2019
Description
If our clients could have thought their way out of the impact of trauma, they would have done that a long time ago.
Trauma resolution is not about thinking. Healing depends, instead, on the work undertaken at the level of the autonomic nervous system, which shapes our clients' experiences of safety and influences their capacity for connection. Traumatic events have a far-reaching impact on this system. Autonomic pathways trigger survival responses that often lead our clients on a painful journey into a state of shutdown, collapse, and dissociation. How can we help our clients find their way back to safety, and how do we prevent it from happening in the first place?
Polyvagal Theory, developed by Stephen Porges, offers a revolutionary roadmap to lead clients out of their adaptive survival responses into the autonomically regulated state of safety that is necessary for successful trauma treatment. Dr. Porges' colleague and author of The Polyvagal Theory in Therapy, Deb Dana, shares this roadmap with you in this exciting recording.
You will become fluent in the language of Polyvagal Theory and confident in your ability to help clients safely tune into and reshape their nervous systems, and rewrite the trauma stories that are carried in their autonomic pathways. Come learn the organizing principles of Polyvagal Theory and work with practices designed to help clients move out of despair and isolation and return to a place of awareness, connection, and social engagement.
Handouts
| | | | |
| --- | --- | --- | --- |
| | Manual – Polyvagal Theory Informed Trauma Assessment and Interventions (16 MB) | 88 Pages | Available after Purchase |
Outline
ESSENTIALS OF POLYVAGAL THEORY
Evolution of the autonomic nervous system
How trauma influences autonomic profiles
Three organizing principles

Neuroception: Detection without perception
Hierarchy: 3 predictable pathways of response
Coregulation: The biological imperative
NEUROCEPTION AND THE SHAPING OF AUTONOMIC PATHWAYS
Understand the internal surveillance system
Track cues of safety and danger
Everyday "biological rudeness"
Trauma, autonomic wisdom, and cognitive override
NAVIGATE THE AUTONOMIC HIERARCHY
Exploring three autonomic circuits

Sympathetic branch
Ventral vagal pathway
Dorsal vagal pathway

How trauma shapes cycles of autonomic response
Engage the regulating capacities of the autonomic nervous system
Introduction to autonomic mapping
THE SOCIAL ENGAGEMENT SYSTEM
The five elements of the Social Engagement System
What happens when parts of the system are unavailable?
Using the Social Engagement System to regulate states
Exercising the Social Engagement System
TRACKING AUTONOMIC STATES
Seeing patterns over time
Use micro-moments to resource change
Explore the blended states of play and stillness
Create autonomic anchors
MEETING THE BIOLOGICAL NEED FOR CONNECTION
Mapping the continuum of solitude to sociality
Create safety in co-regulation
Working with the cycle of reciprocity – rupture – repair
SHAPING THE AUTONOMIC NERVOUS SYSTEM TOWARD SAFETY
Identify portals of intervention
Create neural exercises
Use breath as a regulator
Resourcing new patterns through movement
Explore the autonomic response to touch
Use autonomic imagery
INCORPORATING POLYVAGAL THEORY IN CLINICAL PRACTICE
Getting comfortable teaching Polyvagal Theory to clients
Tracking the 8 steps of a Polyvagal-Informed clinical session
Polyvagal-Informed assessment and treatment planning
Polyvagal Theory and Phase I trauma treatment
RESPONSIBILITIES OF A POLYVAGALINFORMED THERAPIST
The guiding questions
Ethical considerations
Research limitations and potential risks
Faculty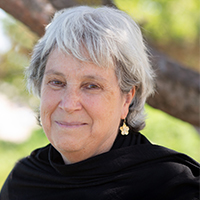 ---
Deb Dana, LCSW is a clinician and consultant specializing in working with complex trauma. She is a consultant to the Traumatic Stress Research Consortium in the Kinsey Institute and clinical advisor to Khiron Clinics. She developed the Rhythm of Regulation Clinical Training Series and lectures internationally on ways Polyvagal Theory informs work with trauma survivors. Deb is the author of The Polyvagal Theory in Therapy: Engaging the Rhythm of Regulation, Polyvagal Exercises for Safety and Connection: 50 Client-Centered Practices, co-editor with Stephen Porges of Clinical Applications of the Polyvagal Theory: The Emergence of Polyvagal-Informed Therapies, and creator of the Polyvagal Flip Chart. rhythmofregulation.com
Speaker Disclosures:
Financial: Deborah Dana maintains a private practice. She is an author for W.W. Norton and receives royalties. She receives a consulting fee from Indiana University; and the Veterans Administration. Ms. Dana receives a speaking honorarium from PESI, Inc.
Non-financial: Deborah Dana has no relevant non-financial relationship.
---
Source: https://catalog.pesi.com//item/2day-workshop-polyvagal-theory-informed-trauma-assessment-interventions-autonomic-roadmap-safety-connection-healing-40799